Frequently Asked Questions
Since choosing a photographer is not an everyday event, nor is your wedding, Eliot Khuner answers the most frequently asked questions about wedding photography.
---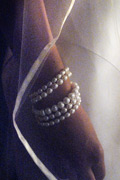 Why should I hire a professional photographer?
A professional will be timely - arriving at your wedding promptly, and getting the results to you on time. A professional has just the right equipment. Having attended many weddings, an experienced wedding photographer will be at ease at your wedding. A professional uses a color laboratory that is in the business of meeting high professional standards of print quality. And, a professional is used to working with individuals, couples, and groups to make the formal photography go smoothly. When you think about the cost of photography, remember that the photographer's fee is only part of your investment: You, your parents, your extended family and your friends will be investing time with the photographer during your wedding. Don't waste time on your wedding day with a photographer who won't produce results you love!
After years of experience, the professional knows which images are important, requiring the investment of time and energy on the wedding day. And, the professional also molds his or her style to match what the couple and their family are looking for. The results will reflect the work of a competent wedding photographer as well as a "friend of the bride."
---
What do I look for - how can I tell good from bad photography?
Look for the photography to meet these standards:
Impact. The images must be more than illustrations. If you have a visceral or verbal reaction to lots of the photos, the photographs have impact.
Correct color, density, focus. Most images should have a full range of tones, from black to white. We usually want to see details in the brightest spots: the dress and flowers. If the photograph has weak blacks or washed out whites, is it a mistake or deliberate? Skin tones should be believable, not merely acceptable. Poor lighting and substandard technique produces off-tones. It is reasonable to expect gorgeous color and rich tones from beginning to end of each wedding. We usually want the eyes to be in focus. If the images are soft for no reason, the work is unacceptable.
Meaning. If a picture doesn't have impact, at least there should be a reason why the photographer included it in the collection: Does it capture a significant detail, person, or moment? Does it help tell the story? does it set the scene?
Composition and other visual cues. Ideally, the viewer's eye is either drawn to the drama of the main subject or is led to there by compositional techniques, such as leading lines - a path your eye can follow into the picture. We are also drawn to areas of highest contrast. If the most visually interesting (most contrast between light and dark, sharpest, most colorful) part of the image is not the main subject, then the photographer has not created a professional image - the eye is taken away from the subject.
Corrective Lighting and Posing: We all have part of us that make us self-conscious. The experienced and skilled photographer brings out the best by highlighting your best features with light, camera angle and composition. Every bride is beautiful, let's hope the photographer captures that beauty.
---

Is it fair for photographers to charge so much?
Fortunately for you, your professional had the opportunity to rehearse at dozens of weddings by charging low rates. With enough practice and training, a photographer may becomes worthy of making a living. Couples who see the difference between the expensive photographer and the apprentice should spend the extra bucks. If you can't see the difference, then maybe you won't mind saving money in this area. However, when your children and grandchildren look at your wedding photos, you will feel wise having stretched the budget to get the photography you really wanted.
---
Do I want proofs? Online Viewing? A Slide Show? How Many Images? Files?
Almost all photographers are using on-line proofing, either on their own site or hosted by a company that handles the technical work. Web proofing allows guests and family from all over the country to see the images. However, some of us still like holding proof images in our hands, either in the form of individual prints or in a proof album, with about a dozen small images per page. EKPhoto offers all three options: on-line proofing for distant viewing, and proof prints or a proof magazine for the bride and groom. The slide show, usually set to music, highlights the best images of the wedding day. The presentation can be very moving. However, it's not the best way to select images for your album and reprints. I have a few slide shows on my web page so you can quickly get the feel of some recent weddings.
How many is too many? Most of us are overwhelmed if we have to look at a few hundred wedding images, but if it's your wedding, you might want to see five-hundred images or more - there are so many wonderful moments you may have missed, and now you get to see them. The professional's goal is about one hundred album-quality images per wedding.
The high-resolution files, as they come out of the camera, are the negatives of today. Like many forms of information storage, they are subject to physical degradation and loss of means of retrieval. For example, you can't pop your 78s or 45s into your ipod. By owning your wedding files, you can upgrade image storage by always moving to the current generation of data storage. You can also make prints, collages and web pages once you own the images.
On the other hand, if your printing doesn't bring out the best in the images, you make the photographer look bad, and you aren't getting your full value from your investment in the photography. At Eliot Khuner photography, most coverage includes your unretouched wedding day images, at full-resolution, with permission to make copies.
---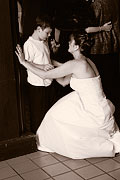 What are the trends in wedding photography?
Unlike clothing, which you can toss when it goes out of style, your wedding photographs will be around for a long, long time. The classic elements of art: lighting, composition, artistic unity, clarity of intent will never go out of style. The picture of you and your mom hugging doesn't need to be stylish and trendy - that's not the point. But when we are selecting a photographer, we are often drawn to the slick, trendy images, not the ones we have seen over and over at every studio. Think of the convertible on the showroom floor: it gets you in the door, but you'll probably end up buying the car that with the best compromise of style, utility and reliability.
Currently, fashion photography is hot among wedding photographers. These images have lots of life, unusual angles, graphic lighting. Of course you want a few of them in your collection. But, above all, weddings are a tradition, honoring relationships and family, not an exercise in photographic flair.
As the twenty-first century started, sepia and black and white made a come-back in wedding photography. In fact, they had and will always be around. Double exposures were trendy decades ago, but are out today. The tilted image (horizon not level) is in, and there is a compositional reason for this, but may be annoying and dated in a few years. Blown-out highlights and saturated or unreal colors are a big hit now, but they too may lose their impact.
---
Should I get a magazine album, or a traditional one?
When wedding photography went digital, we gained the ability to print a collage, rather than assemble it with paper and scissors. Magazine Albums, which got their big start in Australia in the late nineties, feature a mix of images and graphic elements on each page, usually a two-page spread. The main advantage is that each image can be cropped and sized perfectly, without constraint to standard sizes like 4x5 and 5x7. A panoramic image can easily spread across the fold for impact. Scene-setting images and other non-essential images can be included without bumping the important pictures off the page. You may want to add text, such as your vows, to some pages.

The Traditional Album features individually mounted images, one or more per page. They are three dimensional in that the images are slightly recessed behind a matt. A very elegant presentation is an oversized album (11x14) with one small, single image on each page, or just the right-hand page. This highlights each photo, but leaves out a weaker photo that helps tell the story more completely.
Some photographers are presenting the album design within a week or two of the wedding. "Wow! It's beautiful, we'll take it." But, most photographers work with you after the wedding to get a combination of your favorite images plus the photographer's selection of key pictures to make a complete story presentation.
It's up to you which album you get - don't let your photographer sell you the album that you don't want.